ANOTHER WAY OF CREATIVE THINKING
Here's Why Yay! Local Is Your Best Choice In Local Advertising - Since 2005!
Quality Households Carfeully Chosen
We deliver to the best quality households by targeting the mid to highest income homes in each zone to get the best results. We reach the homes you want to become your customers. 
Superior Quality Booklet, Better Response
Our booklets' higher quality, upscale graphics and compact portable format are unlike anything else in the market. This makes them more attractive so more cusomers open them. Longer life, Greater response.
Passion, Commitment, Transparency
Earning your satisfaction and trust is what drives us to provide you with the best service, bar none. We are committed to helping local businesses and our community with clarity, honesty and fairness.
Our flip through coupon booklet is unique and exclusive to Yay! Local. This coupon format allows each coupon to get it's own page, giving business owners plenty of space to leave a lasting impression. Booklets feature premium pages, making it both durable and consumer friendly. The compact size of the coupons increasing the booklets portability. The sleek, durable style of the coupon booklet encourages consumers to keep using the booklet, increasing redemptions by up to 20% over other formats. 
WHY COUPONS
WILL GROW YOUR BUSINESS
94% of people use coupons and 38% buy more than they intended because they have a coupon. Among frequent coupon shoppers, 83% had coupons affect their purchasing behavior.

87% of low–income households, 86% middle income households, and 85% of high-income households admit to looking for deals.

45% of

consumers report using coupons often,

if not

always. 
93% of consumers use paper coupons while 75% use

paperless coupons.

67% of consumers made an unplanned purchase solely because of a coupon or

discount.

 
80% of

coupons are redeemed

Frequent coupon users include high earners: Nearly half of the people who make $150,000 or more use coupons at least 50 times a year. 
YAY LOCAL DIRECT MAIL ZONES
One Page Specifications If You Provide Your Own Art
• 8.4375" WIDE × 3.625" TALL • 0.1875" MARGINS FOR SAFE AREA • 0.125" BLEED • 300 DPI PDF • CMYK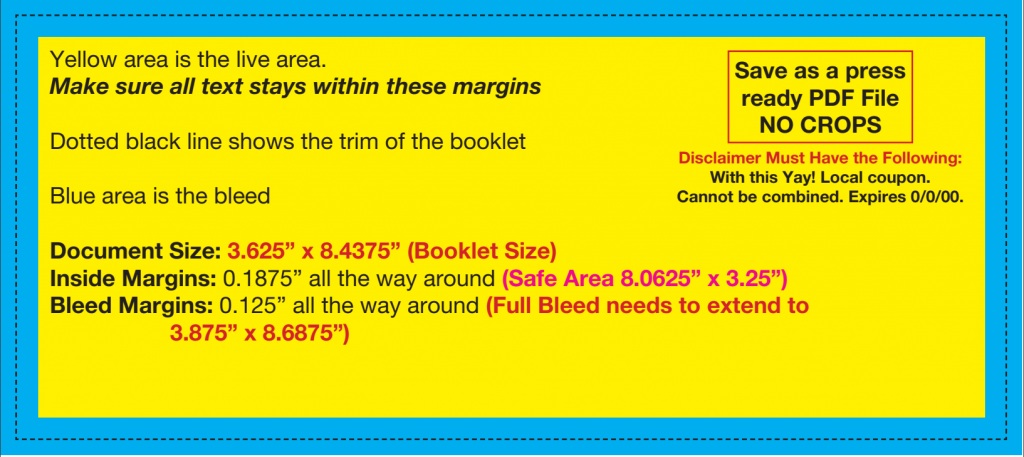 Two Page SL/SR Specifications If You Provide Your Own Art
• 3.625" TALL × 17.25" WIDE
• 0.1875" MARGINS (SAFE AREA: 16.125" WIDE × 3.125" TALL)
• 0.125" BLEED • 300 DPI PDF • CMYK
Front Cover Large (FCL):
3.625" wide x 5.773" tall trim areaInside Margins: 0.1875" all the way around (Safe Area 3.25" wide x 5.398" tall)Bleed Margins: 0.125" all the way around (Full Bleed extends to 3.875" x 6.023")
BCL (LARGE) • 7.1763 WIDE" × 2.6875" TALL
• 3.125" WIDE × 0.875" TALL WHITE
SPACE IN BOTTOM RIGHT CORNER • NO BLEED •
BCM (MEDIUM) • 3.7913" WIDE × 2.8" TALL
BCS (SMALL) • 3.1406" WIDE × 1.75" TALL